Because of the congés d'été, almost every boulangerie in Paris shuts down for one month of vacation. Luckily it's carefully coordinated with the other bakeries in each neighborhood so that Parisians never have to go too far to find fresh bread daily, one of life's necessities in France.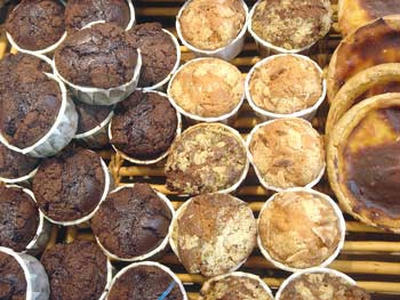 le Boulanger de Monge
I see it as an excuse to leave the confines of my quartier and try other bakeries. Now that the weather in Paris has cooled down enough so that taking a stroll is possible without ending up feeling like you just crossed the desert, ending up drenched in sweat, I mètroed across Paris to a bakery on the rue des Martyrs which Clotilde confided had the best baguette aux cereales in Paris.
But as I arrived (after having to exit the first mètro due to a breakdown, then taking one bus and two mètros, which took about an hour including the time it took me persuading each driver and station agent to let me through using the canceled ticket I'd validated at the first mètro), the window shades were drawn and on the door was the all-too-familiar sign "Fermature pour les Congés".
"Zut!"
Make that…"Merde!"
So yesterday, I hiked up towards the Pantheon to the rue Mouffetard, a rather well-known market street that I generally avoid since it's rather pricey. Nevertheless, there's some great places on that street and I wanted to return to le Boulanger de Monge.
(Update 10/08: Both Octave and Xavier Quere are now closed.)
On page #1 of Le Guide des Boulangeries de Paris, there are only three bakeries in Paris given the lofty 3-star status, and le Boulanger de Monge is one of the lucky few. It's located at a busy intersection and there's generally a queue of locals waiting for their daily bread. My first visit was a few months back with my friend Frank, and to be quite honest, I wasn't won over.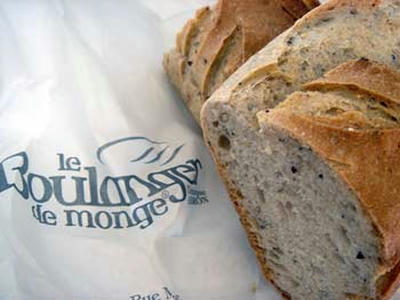 In the window was a multi-layer cake, similar to a Napolean, with alternating layers of puff pastry and cream. Draped across the top were the broken end-shards of the cakes, which I suppose were meant to be decorative, but was suprisingly clunky and amateurish. The tarte aux pommes looked better, but tasted somewhat sec and not-really-all-that-interesting (especially in a city full of very interesting tartes aux pommes.) Perhaps it serves me right for ordering apple tart when apples aren't in season. But since Frank wrote the book on apples, it just seemed like the right alignment of elements.
But what I came for was the bread.
Le Boulanger de Monge is an open bakery. The bakers are right there beside the patrons making the bread, everything in plain view; the organic flour, the bakers (dusted with organic flour), and the wood-fired ovens with crackly, fresh-baked bread emerging every so often. I loved the look of the levain bread, which is slashed prior to baking so comes out with a crusty sunburst baked into the surface. It's perhaps the most beautiful bread I've seen in Paris. But when I got home and tasted it, I missed the sourdough-tang characteristic of my favorite levain bread from Poilâne (which deserves the 3-stars it got from the same guide), as well as the Bay Area's Acme bakery. The bread also had a cake-like texture that crumbled when you cut it, rather than gluten-y nooks and crannies and holes, the appeal of well-crafted bread.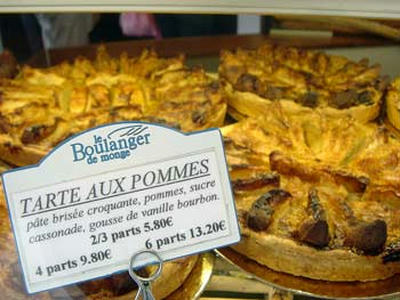 Yesterday I thought I would try their pain aux cereales, since as many of you know I am smitten with hearty breads chock-full grains and seeds. It cost a whopping 2.60€ for the small loaf they bundled up for me. From the looks of the exterior, I didn't have high hopes for the loaf but ordered it anyways. When I hurried home and sliced it open, there were so few grains that I wondered where they got off calling it aux ceriales?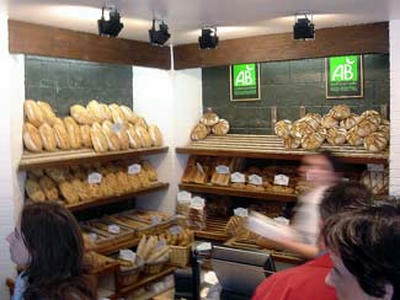 I suppose that I should have simply ordered a baguette, since that's how these bread guides judge bakeries in Paris, so perhaps I need to go back since the third-time may be the proverbial charm. They did have beautiful looking little round cakes, which I will try next time; the chocolate ones in particular look rich and tasty.
PR